Welcome to hotel AI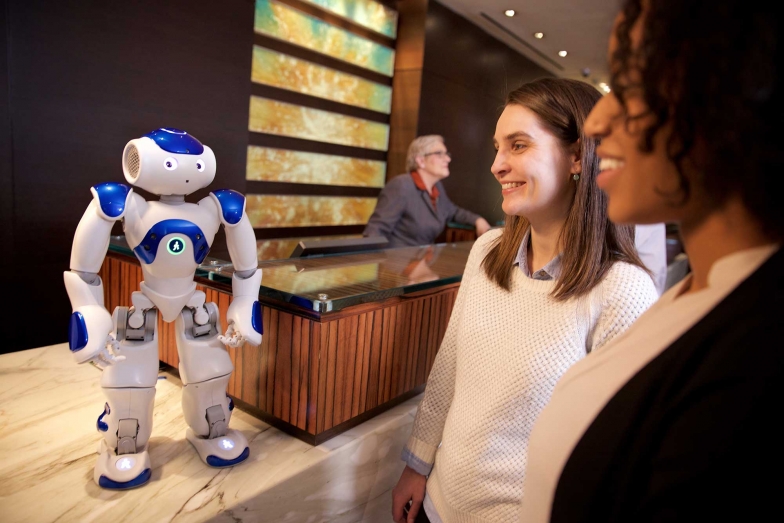 It's 2 a.m. on Thursday morning by the time you've arrived at the hotel and no one is around. Weary after traveling all day, you approach the reservation desk to check in where a robot greets you. Making your way up to the room, you unlock your door just by waving your phone at it. You soon realize that you forgot your toothbrush and it's still too early to make a run to a nearby Walgreens or Target. Unfazed, you simply utter the request out loud and in minutes, you open a door and a robot greets you and delivers what you want.
This all seems a bit like science-fiction, right? It isn't. More hoteliers are introducing artificial intelligence and robotics into their businesses, trying to combat competition from Airbnb and improving the overall guest experience. It's about survival for these traditional accommodations—Airbnb has more listings than all of the top five major hotel brands combined — and also competitiveness. As we get used to connected devices in every living area, why wouldn't we also come to expect them in hotel rooms?
Emphasizing the guest experience
Hilton Hotels is one company to make headlines over its use of AI, such as a concierge robot named Connie. Powered by IBM's Watson program, a robot greets guests and will answer questions about nearby restaurants, tourist attractions, hotel information, and more. Other hotels such as Singapore's M Social, Starwood's Aloft, Crowne Plaza, and Holiday Inn Express use robots for room service, allowing hotel staff to focus on strategically improving the guest experience.
AI is also changing how we act inside our hotel rooms, with the introduction of voice-based assistants we're often comfortable using in our homes. On this, Amazon is at the forefront, not only striking a deal with Wynn Resorts to add its Alexa-enabled Echo speakers to its rooms, but also creating a feature where guests can make phone calls through Echo devices. Last week, Amazon launched a new version of Alexa specifically for the hospitality industry, customizing it to feature key guest information, details around hotel amenities, and let guests control smart devices like curtains, thermostats, and lighting.
"Customers tell us they love how easy it is to get information, enjoy entertainment, and control connected devices by simply asking Alexa, and we want to offer those experiences everywhere customers want them," Amazon's Vice President Daniel Rausch said in a statement. "Alexa for Hospitality makes your hotel stay a little more like being at home and gives hospitality providers new ways to create memorable stays for their guests."
Your phone is also contributing to the future of hotel development, replacing physical keys and key cards as the means to unlocking and locking your room. Have a question about room service? Want a taxi, Uber, or Lyft waiting for you downstairs? Need a dinner reservation at the fanciest restaurant in town? Hotels want you to turn to their chatbot, available within their mobile app.
Take the example of Rose, the chatbot used by the Cosmopolitan Las Vegas: As Conde Nast Traveler notes, guests are given an envelope upon check-in that invites them to text Rose. When done, this chatbot acts like a host for the everyday guest—high roller status optional. It can monitor activity like which bars you frequent or even be your concierge.
In the end, hoteliers want guests to think about feeling like they have all the comforts of home without having to clean up after themselves. And this includes having greater access to information and making the hotel staff disappear into the background, appearing only when absolutely necessary and responding to guest questions and taking over when the robots are unable to complete the task.
"Today's traveler is not looking for a cookie-cutter experience, but they are looking for a consistently compelling experience," remarked Preferred Hotels & Resorts President Michelle Woodley in a report from travel technology company Sabre.
All the convenience for more data
Even though guests are showered with technological innovation, it's not without cost. For every use of Amazon's Alexa skill, interaction with a chatbot, swipe of a phone on the hotel's property, or request made to a robot, the data is seen by the hotelier, giving them more information that they use to better pamper you on this and every subsequent visit.
The goal is to better understand who is staying with them, building a better profile of the business travelers, vacationing guest or family, or conventioneer. Just like the Las Vegas casinos of old where they knew how to pamper special guests, hotels are looking to bring that back, and thanks to technology, they're hoping they'll know your preferences for room type, temperature, sheets, lighting, room service, and any other special requests you might want.
With the rise of robots and AI in the hotel industry, there might be an opening for developers eager to capitalize on the travel industry. Amazon's customized Alexa system already works with third-party entertainment providers, devices, and services, but should certain capabilities not be available (like analytics), turning to the developer ecosystem might be warranted. And it's not limited to just Amazon because its dominance will be challenged by Apple, Google, Microsoft, and quite possibly also Samsung.
As hoteliers experiment with innovation in guest rooms, they're also looking for innovations to happen in the proverbial back-of-the-shop. They'll want services that can optimize their e-commerce offering; improve sales conversions by knowing what customers prefer; offer better recommendations so potential guests don't flee to competitors or worse, Airbnb, HomeAway, and VRBO; and provide spot-on pricing to increase bookings. AI isn't limited to the period once a guest walks into the door—hotels want it to provide an end-to-end solution, from when a guest researches a place to stay, to their arrival, departure, and the days afterward.
Hotel guests are more connected than previous years, underscoring that hotels should embrace not only mobile apps, but also other technologies like AI, Internet of Things, and augmented reality.
"Modern guests are far more connected than previous generations. Their behaviors, expectations, and preferences have also evolved," author of Sabre's latest report and analyst Brian Solis once remarked. "This is an opportunity for hoteliers to innovate and use digital transformation to introduce new levels of experiences that change the game for the entire industry."